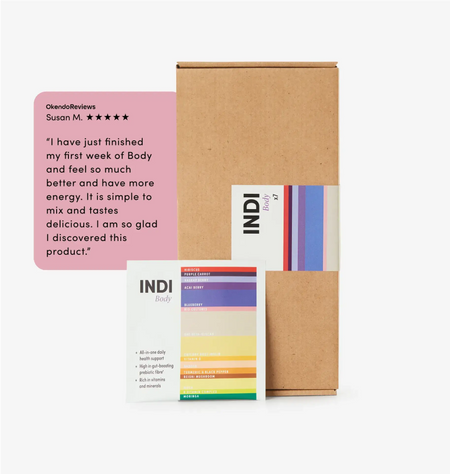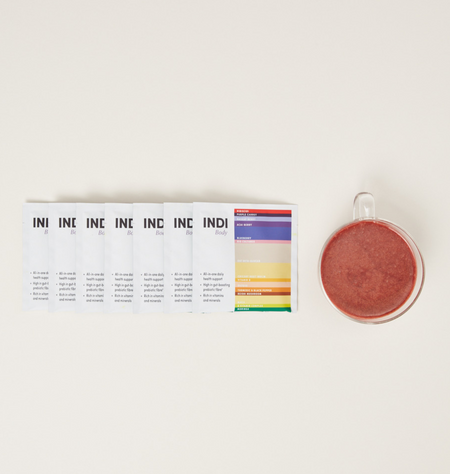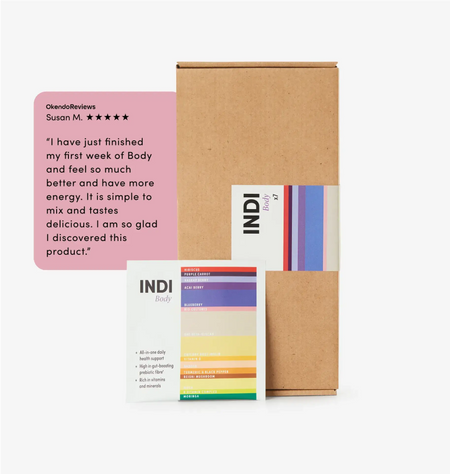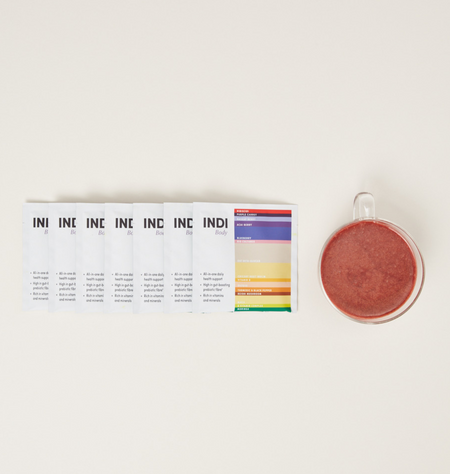 Spot us in

Body Trial
ALL-IN-ONE HEALTH SUPPORT
Free delivery over £15 · 30 day money back guarantee
Pay in 3 installments with
HOW TO USE
Consume daily, ideally with breakfast. Shake up with water or your favourite plant-based milk (we love almond milk), or stir into a smoothie, yoghurt or breakfast bowl.
WHO IT'S FOR
Anyone who wants to improve gut health, digestion, energy, mood and more—which, let's face it, is most of us. Loved by nutritionists, it's an everyday essential that virtually anyone will benefit from.
NUTRITIONAL INFORMATION
OUR NO NASTIES APPROACH
100% plant-based. No bulking agents. No artificial additives. No chemical preservatives. Gluten-free. Non-GMO.
Spot us in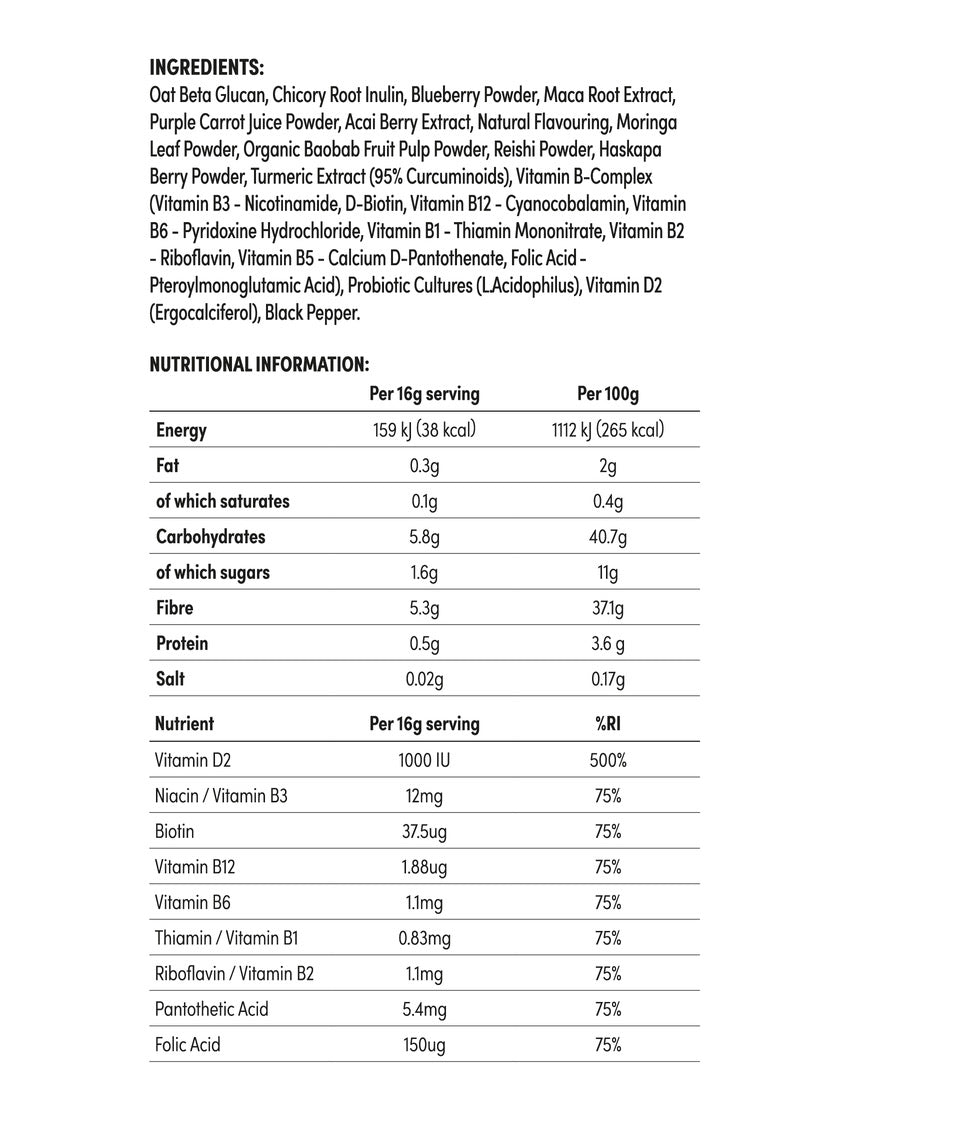 Body Trial
ALL-IN-ONE HEALTH SUPPORT
Our delicious berry flavour whole food and fibre-rich plant powder bolsters your daily diet to improve gut health, digestion, energy, mood and more. Loved by nutritionists, it's an everyday essential that virtually anyone will benefit from.
Skip the trial and buy a month's supply here.
Free delivery · Pause or cancel anytime · 30 day money back guarantee
Pay in 3 installments with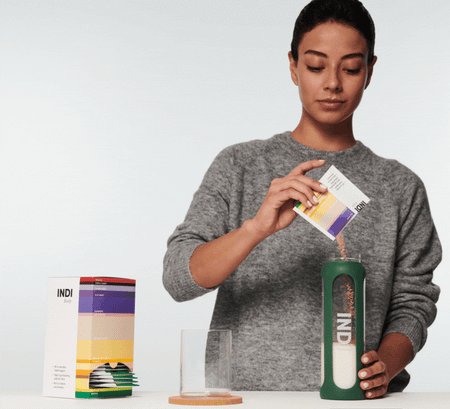 "Best Supplement Brand" Hip & Healthy 2023 Wellness Awards
"The kind of supplements we actually look forward to taking."
"Try Indi Body for a healthy skin overall - I mix a scoop into my breakfast smoothie or water bottle each morning."
Stages of Body
IMMEDIATELY
You'll experience a natural, gentle lift with energy to tackle the day ahead. Hunger is also subdued.
1 WEEK
You'll feel lighter as your digestion and energy improve, and find yourself less prone to sugar cravings.
1 MONTH
Bowel movements are healthy and regular, mood is balanced, energy is better and immunity is stronger.
3 MONTHS+
Skin is clearer and brighter, hair is thicker and stronger, and inflammation is reduced due to a healthy, happy gut microbiome.
What's inside
MORINGA
NUTRIENT DENSE
Origin INDIA
One of the most nutrient dense foods on the planet containing 4x the amount of iron as spinach, 4x the vitamin A as carrots and 4x the calcium as milk.
What's inside
HIBISCUS
Hibiscus has proven antihypertensive benefits, lowering blood pressure as a natural alternative to medications.
What's inside
PURPLE CARROT
Naturally high in antioxidants it protects against oxidative stress and free radical damage, and contributes to the normal functioning of the immune system.
What's inside
HASKAP BERRY
With the highest recorded anthocyanin content of any berry, x3 more than blueberries, Haskap is one of the most potent antioxidants on the planet. Studies from Reading University have revealed that supplementing with Haskap berries provide both vasodilatory benefits as well as improvements to memory.
What's inside
ACAI BERRY
Acai Berries counter oxidative stress and inflammation, and are also a good source of health promoting omega 3, 6 & 9 fats which contribute to optimal heart health and function.
What's inside
BLUEBERRY
Blueberries contain polyphenols, in particular anthocyanins that have been associated with improved cardiovascular health, and may protect against oxidative stress and DNA damage.
What's inside
B VITAMIN COMPLEX
This complex contains eight essential B-vitamins that are regarded as the building blocks to a healthy body. They help the body convert food into energy, create new blood cells, and maintain healthy skin cells, brain cells, as well as support immune system functions. As they are not stored by the body they must be replenished from our diet, meaning deficiencies can be common.
What's inside
CHICORY ROOT INULIN
PREBIOTIC FIBRE
Origin FRANCE
Inulin is a fructan known for its benefits as a prebiotic that feeds healthy bacteria in your gut. As a soluble dietary fibre it controls blood glucose levels and may directly stimulate immune cell activity and alleviate inflammatory symptoms in the gut.
What's inside
BIO CULTURES
PROBIOTICS
Origin NETHERLANDS
Studies have shown that low dose, single strain probiotics are effective for relieving IBS symptoms. With 2 billion Culture Forming Units (CFUs) of Lactobacillus Acidophilus per serving, these microorganisms work to support a healthy gut microbiome for optimal digestion and reduced bloating after meals.
What's inside
OAT BETA-GLUCANS
HEART HEALTH
Origin GERMANY
Consuming 3g of oat beta-glucans per day lowers problematic LDL cholesterol by between 5-7%, and is effective at reducing the risk of coronary heart disease.
What's inside
VITAMIN D
Vitamin D is responsible for over 2000 gene expressions throughout the body. It plays an essential role in everything from strengthening bones to the normal functioning of the immune system. During winter months when sunlight exposure is limited, deficiency of vitamin D is common. Public Health England recommends that any individual over the age of 1 should consider supplementing this vital nutrient.
What's inside
BAOBAB
NUTRIENT DENSE
Origin TANZANIA
Native to the hot and dry plains of Africa, Baobab naturally concentrates high levels of vitamins, minerals and phytonutrients in a high fibre package. With six times the level of Vitamin C as an orange and six times more fibre than a banana, Baobab makes it easy to hit many of your daily nutritional objectives in one go.
What's inside
TURMERIC & BLACK PEPPER
95% CURCUMIN EXTRACT
Origin INDIA
This potent 95% curcumin extract is an active anti-inflammatory and antioxidant compound from Turmeric, and 20x the potency of turmeric powder. Effective at reducing chronic low-grade inflammation it associated with lowering the risk of various chronic diseases including heart disease, cancers as well as neurodegenerative diseases like Alzheimer's. Paired together with black pepper increases bioavailability by up to 2000% improving its anti-inflammatory benefits throughout the body and brain.
What's inside
MACA
Maca is a famed root vegetable from Peru that has been used for centuries for its adaptogenic properties. It has an ability to regulate cortisol levels, which may support how the body can cope with stress. Additional benefits include boosting energy levels as well as showing strong evidence of enhancing libido and improving fertility.
What's inside
REISHI MUSHROOM
IMMUNE SUPPORT
Origin JAPAN
Myconutrients in Reishi are immuno-regulatory and support your body's immune system and its ability to fight off infection. Reishi mushrooms are also a good source of beta-glucans shown to regulate blood cholesterol levels and may lower the risk of heart disease. Last but not least, its adaptogenic properties also work to rebalance hormone levels and may improve your body's ability to cope with stress.
MORINGA
HIBISCUS
PURPLE CARROT
HASKAP BERRY
ACAI BERRY
BLUEBERRY
B VITAMIN COMPLEX
CHICORY ROOT INULIN
BIO CULTURES
OAT BETA-GLUCANS
VITAMIN D
BAOBAB
TURMERIC & BLACK PEPPER
MACA
REISHI MUSHROOM
REVIEWS
Sangeeta S.

Verified Buyer

4 hours ago

Bernadette L.

Verified Buyer

2 months ago

Amazing product easy to incorporate

Amazing product easy to incorporate it into my diet

I do feel more energised and ready for the day.

Luciana C.

Verified Buyer

2 months ago

Great product

I really like Body from Indi. The only thing I would say could be improved is the chicory root which causes a lot of winds.

Janet M.

Verified Buyer

3 months ago

Tastes good

Noticed more energy, and more balanced, would definitely recommend

selda y.

Verified Buyer

3 months ago

The product was good and

The product was good and had a nice taste and I enjoyed using it although did not notice any changes perhaps as I only used it for 7 days but is overpriced and not affordable in my view which means a lot of people will not be able to buy it
Reviews Loaded
Reviews Added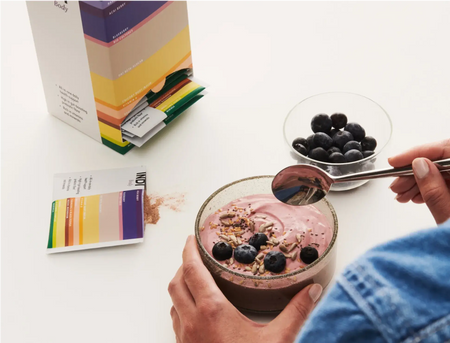 FAQs
WHAT'S THE DIFFERENCE BETWEEN BODY AND A MULTIVITAMIN?
Multivitamins contain a selection of synthetic vitamins and minerals. Recent studies have shown them to be ineffective. Indi takes a different approach. Body uses whole foods to deliver prebiotic fibres, vitamins, minerals, polyphenols and adaptogens in their complete and natural form. Why? Because supplementing in this way is clinically proven to make a difference to your health in the short and long term.
WHY DO I NEED TO SUPPLEMENT FIBRE?
95% of UK adults are deficient in fibre. Science has shown that adding just 5g of fibre to your diet everyday will decrease the chance of dying from any chronic disease by 14-15%. Indi Body contains 5.3g of prebiotic fibre per serving.
WHAT IS A WHOLE FOOD SUPPLEMENT?
A supplement made from real foods so nutrients can be delivered in their natural, bioavailable form. At Indi, our whole food ingredients are freeze-dried, dehydrated or concentrated into a powder. These process maintain the quality and potency of the ingredients, capturing the maximum nutritional value from each plant-based source.
WHY A POWDER NOT A PILL?
Our supplements are made from (highly nutritious) real foods, powdered down. This means we can deliver all the goodness in its natural form – and in doses that will make a difference.
CAN I RETURN IF I DON'T LIKE IT?
Yes. We're so confident that you'll love Indi products that we offer a 30-day money-back guarantee. So, if you're not completely satisfied simply contact us to organise the return and refund.
WHAT HAPPENS IF I SUBSCRIBE AND WANT TO CANCEL?
No long-term commitment is required; after your second delivery, you can cancel at any time. But we recommend sticking with it—consistency offers the best results!